DegreeWorks Tutorial
Join us for a DegreeWorks Tutorial
Spring registration is approaching quickly – Make DegreeWorks work for you!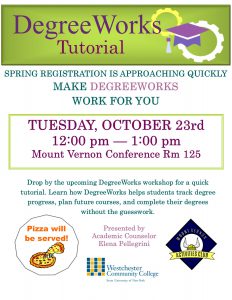 Tuesday, October 23
12:00 pm – 1:00 pm
Mount Vernon Conference Room 125
Drop by the upcoming DegreeWorks workshop for a quick tutorial. Learn how DegreeWorks helps students  track degree progress, plan future courses, and complete their degrees without the guesswork.
Presented by Professor Elena Pellegrini, Academic Counseling.
Pizza will be served!
Co-sponsored by the Mount Vernon Extension Center and the Mount Vernon Activities Club.