Jewelry Workshop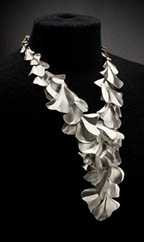 Westchester Community College Center for the Arts in White Plains is happy to offer the Chasing and Repousse workshop with instructor Davina Romansky! Have fun learning how to hammer metal into creative forms through the ancient technique of Chasing and Repoussé. You will ornament and shape metal by hammering and pushing (repoussé) a sheet of metal in one direction, then sinking (chasing) the metal on the opposite side; stretching the metal to make a new creative form. Chasing is one of the few economical techniques that offer such diversity of expression. The instructor will work with each student from the design process to the creation of a finished piece (which can range from a cuff bracelet, ring, pendant, ornament, etc.). Conveniently located in the Westchester County Center.
Friday and Saturday, Oct. 20 and 21
9:00 am – 4:30 pm; D. Romansky
Fee: $200 + $8.25 reg. fee
Call 914-606-7500 to register today!