Sustainability and Green Living
To register call 914-606-6830 and press option 1
Westchester Community College and Hilltop Hanover Farm & Environmental Center
Certification in Sustainable Agriculture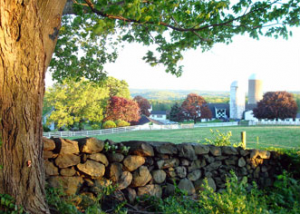 All courses are held online with the last session onsite at Hilltop Hanover Farm & Environmental Center, located at 1271 Hanover Street in Yorktown Heights; www.hilltophanoverfarm.org
In recent years there has been an increase in public concern regarding health, the environment, and animal welfare, leading to a demand for local sustainable food and a rise in organic vegetable production. For people interested in organic food and sustainability, Hilltop Hanover Farm's Sustainable Agriculture certification program is designed for, but not limited to, the aspiring farmer, community gardener, homesteader, backyard gardener, and educator.
The program is all-encompassing, with topics ranging from soil health and organic growing methods, to small-scale livestock and garden planning. It accommodates even the busiest schedule by providing online hybrid classes, runs for 2 semesters, offers a range of hands-on activities, and includes a 12-week on-site summer internship.
Hilltop Hanover farm has 7 acres of vegetable, herb and flower production, 3 greenhouses, a composting facility, a farmstand, 5 beehives, and a small livestock operation, which all highlight best practices in sustainable agriculture. Hilltop Hanover farmers and local farmers make up the faculty, and the program.
---
Core Courses:
Introduction to Organic Growing
This hybrid online/on-site course covers the basics of organic gardening and farming, highlighting topics ranging from seed selection to harvesting techniques. Includes planting methods, types of soil, plant protection, irrigation, hand tools, processing, and proper storage. Upon completion of the course, students will have an understanding of how to properly plant, care for, and harvest organic vegetables.
CE-GRDN 2093, 4 Mon., Jan. 8-29 online and 1 Sat., Feb. 3, 9:00 am-12:00 noon, Onsite-Barn F, $300. #12979
Elective Courses:
New! Garden Planning
This course will cover how to plan and execute a garden from seed selection to building a raised-bed garden. Topics include climate zones, soil selection, vegetable rotation, companion growing, vertical growing, container gardens, and square-foot gardens. Upon completion, you'll be able to plan and execute a variety of garden types.
CE-GRDN 2105, 3 Mon., Apr. 23-May 7 online and 1 Sat., May 12, 9:00 am-12:00 noon, Onsite-Barn F, $225. #13093
New! Advanced Gardening
This course will cover advanced gardening topics ranging from leaf growth and structure to organic fertilizers. Course highlights include plant observation, propagation, seed saving, germination, pollination and microclimates. Upon completion, you'll understand basic plant biology and be able to apply that knowledge to gardening techniques for a healthier garden.
CE-GRDN 2106, 4 Mon., Mar. 5-26 online and 1 Sat., Mar. 31, 9:00 am-12:00 noon, Onsite-Barn F, $300. #13094
New! Soil to Stomach
This course will cover how soil health translates into human health. Topics include an introduction to nutrition, why healthy soil makes us healthier humans, how sustainable gardening methods grow nutritionally dense vegetables, how to check sugar and mineral content, and the need to knows of vegetable preparation. Upon completion, you'll have a basic understanding of nutrition and how to check for vegetable nutritional content.
CE-NUTR 2103, 3 Mon., Feb. 12-26 online and 1 Sat., Mar. 3, 9:00 am-12:00 noon, Onsite-Barn F, $225. #13010
New! Weeds and Pests
This course will cover how to manage weeds and pests for a bountiful vegetable harvest. Topics include natural weed management, pest management, companion planting, cover cropping methods, organic pesticides, and animal prevention techniques. Upon completion, you'll be familiar with common pests and weeds and sustainable methods of garden weed and pest management.
CE-GRDN 2108, 4 Mon., Apr. 2-23 online and 1 Sat., Apr. 28, 9:00 am-12:00 noon, Onsite-Barn F, $300. #13011
NEW! Small Scale Livestock
Covers the basics of how to raise and manage chickens and goats. Topics include animal husbandry, feed, housing structures, and animal health. Upon completion, you'll have an understanding of how to construct a chicken coop and the knowledge for managing a small-scale flock or herd.
CE-ANIML 2006, 3 Mon., March 5 – 19 online and 1 Sat., March 24, 9:00 am-12:00 noon, Onsite-Barn F, $225. #13101
All courses are held online with the last session held onsite at Hilltop Hanover Farm & Environmental Center, located at 1271 Hanover Street in Yorktown Heights; www.hilltophanoverfarm.org
---
Courses held at Westchester Community College main campus/Valhalla
New! Living Green
Learn to make the right environmental choices so that our children will have a healthy, ecologically diverse, sustainable planet. Includes global warming, the demise of the honeybees, patented genes, counterfeit pharmaceuticals, the lasting legacy of Chernobyl, hydrogen as an energy source, sick buildings, and inspiring stories from the green movement.
CE-GREEN 2020, 3 Tues., Apr. 3-17, 6:30-8:30 pm, KNC-4, $65 (+ textbook). T Riley. #12994
Developing Zero Energy Homes
Discover what it takes to develop homes that cost little to heat, cool, or light without going broke. Learn about energy efficient materials, appliances, heating and cooling equipment, lighting, solar panel systems, and windows and window treatments that make up a zero energy home. Explore financial incentives available to reduce the cost and why they are more comfortable and even less costly to develop.
CE-GREEN 2019, 2 Sat., Apr. 21 & 28, 11:00 am-2:00 pm, KNC-2, $75. B Rehfeld. #12324
NEW! Energy Efficient Lighting for Buildings
A focus on lighting's energy efficiency and cost. Discover strategies to minimize energy consumption and cost; learn the fundamentals of performing a lighting audit to understand basic nomenclature and different types of lighting fixtures, along with their advantages and disadvantages. Explore basic energy usage calculations and energy bill analysis as well as how to determine the need for a lighting upgrade.
CE-GREEN 2014, 2 T/Th, Feb. 6 & 8, 6:00-9:00 pm, Room TBD, $65. B Hagen. #12264