Student Testimonials
Patricia Bushay
August 29, 2018
Internship Reflection
My Healthcare Internship Reflection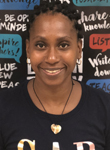 At Westchester Community College's Center for Applied Learning and Career Education, I received individualized instruction about how to complete an internship.  During my internship experience, I was accepted as a Health Promoter with the Hudson River Healthcare Medical Center in Peekskill, New York.  I am currently a TRIO student.  I am studying nursing and my future endeavor is to become a Certified Nurse Midwife after I graduate.   My internship experience was one of the best experiences I had as a student here.  I was going through some indecisive thoughts about my future employment goals, until I was given this opportunity.
From the internship position that was offered to me, I was able to transfer my skills and apply them to the specific duties that were presented in the job description.   At  HRHCares, I attended meetings, orientations and outreach events, and that really helped me to understand the overall the health care industry.
As I sit here today, I would encourage my peers to become a part of this outstanding program. It makes you feel that you're on your way to something greater than just your academics.  I was able to receive hands-on experience in a medical setting, talk with people in the community about health concerns, and ultimately network with administration and healthcare clientele.  I would promote this internship opportunity to others, and I will be participating in more medical internships throughout my educational experience here at WCC.
Thank you again,
Patricia Bushay