Past Exhibition – STUDENT SHOW
December 19, 2011 – January 21, 2012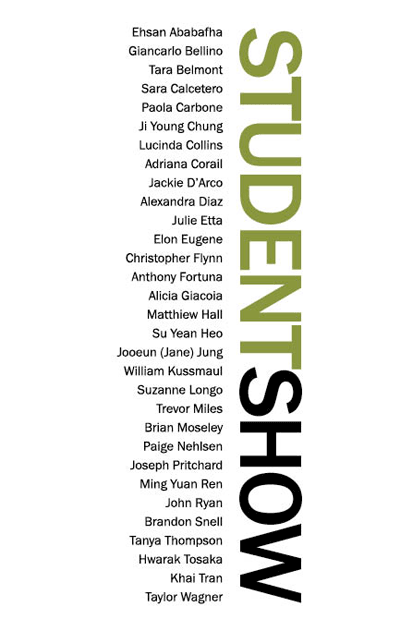 Ehsan Ababafha, Giancarlo Bellino, Tara Belmont, Sara Calcetero, Paola Carbone, Ji Young Chung, Lucinda Collins, Adriana Corail, Jackie D'Arco, Alexandra Diaz, Julie Etta, Elon Eugene, Christopher Flynn, Anthony Fortuna, Alicia Giacoia, Matt Hall, Su Yean Heo, Jooeun (Jane) Jung, William Kussmaul, Suzanne Longo, Trevor Miles, Brian Moseley, Paige Nehlsen, Joseph Pritchard, Ming Yuan Ren, John Ryan, Brandon Snell, Tanya Thompson, Hwarak Tosaka, Khai Tran, Taylor Wagner
Guest Juror: Kenise Barnes
WESTCHESTER COMMUNITY COLLEGE FINE ARTS GALLERY invites you to the Student Show, an annual end-of-semester celebration of student talent and creativity. This exhibition stands as a testament to the skill and perseverance of students in the college's Visual Arts Program as well as to the dedication of the many faculty members who have played such a vital role in helping them to develop their talents.
This semester's Student Show focuses on work completed by students enrolled in Visual Arts Seminar, a one-credit portfolio development and professional practices course that serves as a capstone for the college's AAS Degree in Visual Arts. Based on the parameters of a standard juried exhibition, the Student Show was conceived to provide these students the unique opportunity to participate in all aspects of a gallery exhibition, including submitting digital images and ancillary materials for review; preparing, placing, and installing artwork in a gallery space; distributing publicity materials, and retrieving artwork. All students who submitted from one to five .jpg images by a stated deadline were guaranteed that at least one of their artworks would be accepted for the Student Show. While many of the artworks in the exhibition are outstanding examples of class projects, a significant number are individual, self-directed works.
Kenise Barnes, director of Kenise Barnes Fine Art, served as Guest Juror for the Student Show. In addition to reviewing and selecting artwork based on .jpg submissions, Ms. Barnes played a crucial role in positioning artwork in the gallery, discussing basic installation strategies and techniques with students while also informally assisting them with framing and presentation. Her selections of three artworks to receive a Juror's Prize reflects the high level of visual acuity and technical competence demonstrated by many students on the verge of completing a visual arts degree at Westchester Community College.