Fine Arts Gallery
The Fine Arts Gallery is located on the third floor of the Academic Arts Building, across from the theatre. It is open Monday through Saturday 10:00 am-3:00 pm, and Thursday evenings 4:00-6:00 pm. The gallery closed Thanksgiving, and December 24 – January 21.
---
FINE ARTS GALLERY: The Borscht Belt by Marisa Scheinfeld
Tuesday, January 22 – Friday, February 22
Fine Arts Gallery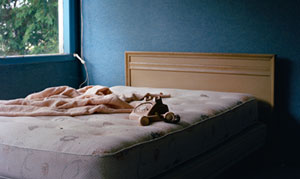 Based on her widely acclaimed book, The Borscht Belt:  Revisiting the Remains of America's Jewish Vacationland (Cornell University Press), this traveling exhibition features Marisa Scheinfeld's large-scale color photographs of the abandoned remains of the once famous resort hotels of the Catskill Mountain region.  A frequent guest lecturer, Scheinfeld's photographs have been exhibited widely, and her work has been featured in numerous publications, including The New York Times, The Wall Street Journal, Newsweek, Slate Magazine, and American Photography.  She is also an adjunct instructor at Westchester Community College.
Gallery Talk: Thursday, January 31, 2:00 pm
Snow date: Thursday, February 7, 2:00 pm
Artist's website:  http://www.marisascheinfeld.com/
About the book:  http://www.marisascheinfeld.com/book/
About the Exhibition:  http://www.marisascheinfeld.com/traveling-exhibition-1/
---
FINE ARTS GALLERY: Deep Skin by Cynthia Lin
Monday, March 4 – Friday, April 12
Fine Arts Gallery
This exhibition will feature paintings, drawings, and prints by Cynthia Lin that originate from images of skin. Ranging from up-close human surfaces to faraway planet topographies, the work deploys various "lenses" to see "factual" digital scans re-interpreted through painting processes that engage material, gesture, and time. Each step accumulates unpredictable events shaped by the personal experience of an Asian-American constructing her "in-between" space within a global culture. Lin is a Guggenheim fellow, NYFA Finalist, and Associate Professor and Area Coordinator of Painting and Drawing at SUNY Purchase College.
---
FINE ARTS GALLERY: Student Show
Monday, April 29 – Friday, May 3
Fine Arts Gallery
This exhibition presents selected student works from Visual Arts curriculum classes. Drawing, painting, sculpture, photography, graphic design, and digital media are featured.
---
Exhibitions and receptions are free and open to the public.
For a complete schedule of gallery events, please call 914-606-6835.
Melissa Hall PhD
Professor, Art History/Gallery Director
Westchester Community College