WCC Foundation Remembers Bunny Marks
Foundation Board Member Barbara (Bunny) Marks passed away at age 92 on Thursday, February 26, 2015.  Bunny joined the Board in 1993 and her work across many areas of activity contributed greatly to the strength of the Board and Foundation as we know it today.   Her association with Westchester Community College spanned over 25 years, and her dedication and contributions were many.
Bunny was the original volunteer Alumni Coordinator for the WCC Foundation and founded the Alumni Association in 1989.  Her work with this group produced the first comprehensive alumni directory in 1992, which was subsequently updated several times.  Bunny also served on a variety of committees over her years of Board service, including the Children's Center Planning Committee, the Celebrity Salons Committee, and the Scholarship and Student Focus Group Committees.
Bunny was deeply committed to the Foundation's mission of providing scholarship support to needy students. Her long involvement with the Scholarship Committee led her to establish the Barbara K. Marks Scholarship in 2011 to assist continuing students who display academic potential and financial need. Since that time, Bunny helped seventeen students from varied backgrounds achieve their dream of a college education.
Of meeting Mrs. Marks and the support he received, 2012 scholarship recipient Ari Brown writes,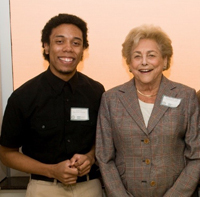 "Mrs. Marks was a very kind and gentle person. I was lucky enough to just meet her, let alone have received a scholarship from her. Without the Barbara K. Marks Scholarship, I wouldn't have been able to get thru Westchester Community College and complete my digital arts certificate. This picture reminds me that I aspire to be the kind of person Mrs. Marks was; one who can inspire, and give people the help they need to reach their goals."
We will miss Bunny greatly but are so grateful for her unique contributions to our community, and the special opportunity we had to work with her.  The family requests that in lieu of flowers, donations may be directed to the Westchester Community College Foundation, at www.mysunywcc.org/tribute gifts (Please be sure to indicate in comments: In memory of Bunny Marks.)  Donations in memory of Bunny will be added to her scholarship fund so that awards may be given out in her honor this coming fall.