Con Edison Establishes STEM Scholarships

On April 11, 2016, Westchester Community College was invited to participate in a very special event held at Con Edison corporate headquarters in New York City to announce the corporation's new STEM scholarship initiative and to recognize students who were the recipients of their first awards.
Through their enlightened philanthropy, Con Edison has been working with WCC to design a program of study that prepares students for employment in STEM fields – science, technology, engineering or mathematics (STEM disciplines) and have achieved academic excellence. Students from 14 local colleges have been awarded Con Edison Endowed STEM Education Scholarships this year. 
The first recipient of the full tuition WCC Con Edison Endowed STEM Scholarship is Ruby Asomaning, an extraordinary student with an extraordinary story.  After immigrating to the United States from Ghana, she came to WCC to pursue a degree in Civil Technology.  Ruby is a full-time student who maintains an excellent GPA, holds a full-time job, and has been involved with The Viking News, the school newspaper.
Without the support she received from Con Edison at a critical stage in her studies, she would have likely dropped out. Last semester, Ruby could not afford to purchase text books and was concerned about completing her degree. She is now on track to graduate (December 2016).
Ruby recently launched her career in civil technology as a field inspector with GPI/Greenman-Pederson, Inc., the engineering and construction firm currently building the new Tappan Zee Bridge. She is eager to help other women pursue STEM degrees, and says, "Thank you, WCC and Con Edison, for helping me on my path to greatness.  I believe this is just the beginning of great things in my life."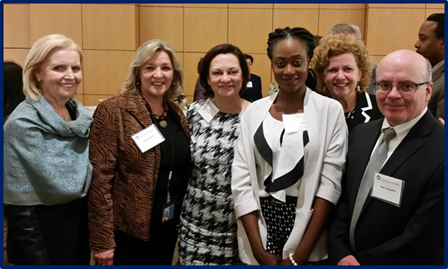 Center WCC Student Ruby Asomaning, the first Con Edison Endowed Scholarship Recipient from WCC.  Pictured (Left to Right) Patricia Mulqueen, Manager Westchester Public Affairs, Con Edison, Jane Solnick, Director Westchester Public Affairs, Con Edison, Frances A. Resheske, Senior Vice President Public Affairs, Con Edison, Laurie Miller McNeill, WCC and Marc Huestis, Senior Vice President Gas Operations, Con Edison and also a WCC Foundation Board Member.