Scholarship Success Stories
Mahcherhra "Masha" Alimova, Class of 2017
Kathryn W. Davis Global Community Scholar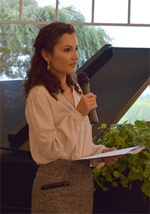 Masha is a Kathryn W. Davis Global Community Scholar who came to us form Uzbekistan. Masha double majored in Computer Science and Networking at Westchester Community College.
In her own words Masha says, "Have you ever had a dream, where you see something you want the most in your life, but it is so far, that you cannot reach it? Eight years ago, when I came to this country with my two sons and my husband, I had the same dream repeatedly. I would see myself studying in the United States as a faraway star, never a reachable star….My husband and I worked hard but still it was not enough for one of us to pay the tuition for school.
I became unsocial and was afraid of anything new. Then, I began volunteering at Westchester Community College as an ESL teacher and I fell in love with the environment. I Applied for a scholarship and started taking classes. I met so many great professors, nice students, and gained so much knowledge, that my life changed completely. I started tutoring in the tutoring center, got involved with many events on campus and made a lot of new friends….
Today, I am a strong, intelligent woman, who will graduate in May with A.A.S degree in Networking, I will continue on my life's journey and I will succeed, thanks to WCC and all of the scholarships I received.
The Kathryn Davis Global Community Scholarship changed not only my life, but many other students' lives too.
I would like to thank Kathryn Davis Scholarship donors for this opportunity. I would like to thank them not only for the free education, for the whole school year, but more for the opportunity to meet with great people. Thank you for the opportunity to learn that life is not only about what you can get, but also about what you can give."
---
Kyrie Philbrook, WCC Class of 2015
Then & Now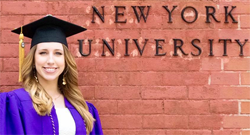 Two years ago, Kyrie a Wallach Scholar graduated from Westchester Community College. Today, she comes to us as a recent graduate of New York University and we could not be more proud of her accomplishments. Kyrie who graduated with honors is optimistic about her future and was kind enough to share her experiences with us at a recent Celebrity Salon event. I would like to share with you some of Kyrie's speech for this event, "It's such a pleasure to speak before you today. Two years ago, just before graduating from Westchester Community College, I spoke at a Celebrity Salon, about my experiences of homelessness, domestic violence, and food insecurity that I was able to overcome largely due to the supports available at WCC, and the generous scholarship contributions that made WCC financially feasible to me. I since transferred to NYU with a full-tuition scholarship and graduated with honors in May 2017, with my Bachelors of Social Work. I will be attending a prestigious university in the fall to pursue my Masters of Social Work with a generous scholarship that will make it possible for me to attend the best social work program in the country. During my time at NYU, I was given opportunities that I never would have had without taking the first step of receiving my associate degree at WCC. I was offered scholarships to spend a semester studying abroad in Paris, where I was able to visit several European countries, experience awe-inspiring history, and culture that I had always dreamed about one day seeing. This past year, I interned at the Program for Survivors of Torture where I worked individually with over 50 clients who were refugees and asylum seekers that had experienced war, persecution, torture, and other traumas. With the global focus offered to me at NYU, I have become deeply passionate about the refugee crisis and plan to continue working with refugees in Michigan, which harbors more Syrian refugees than any other state in the U.S.
Westchester Community College changed my life, and every scholarship I received took an enormous burden off my shoulders while I worked multiple jobs just to pay my most basic living expenses. Not only did these scholarships help me financially, but emotionally as well. Despite all the difficulties I faced with unstable housing and the legal steps I had to take in order to protect myself from a dangerous man who stalked me and threatened my physical safety, forcing me to attend classes with injuries on multiple occasions, it always meant the world to me that my efforts to succeed were not only reflected in the good grades that I received, but in the scholarship awards I received that told me that there were people who cared about me, who could see how hard I was trying and who wanted to help me succeed. For someone like me who started out school with so little self-esteem or confidence in myself, it meant the world to know that there were people who believed in me before I believed in myself. Those consistent messages of support that I received at WCC are why I can now say that I have become the type of woman that I can be proud of, and that I now look into the mirror with confidence and hope for the future. Thank you for everything that you have done and continue to do to support students – your dedication means the world to us."
---
Ruby Asomaning, Class of 2016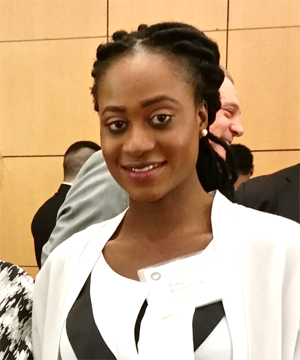 WCC scholarship student, Ruby Asomanning, came to us from Ghana and she is pursuing a degree in Civil Technology.  Ruby is the first Westchester Community College student to receive the new Con Edison Endowed STEM Scholarship.  The support she received came at a critical stage in her studies and she would have likely dropped out without Con Edison's support.  Last semester, without scholarship support, Ruby could not afford to purchase text books and was concerned about completing her degree.  With assistance, she is able to complete her studies and participate in co-curricular activities, which includes working on the student paper.  Ruby has also launched her career in civil technology as a field inspector with GPI/Greenman-Pederson, Inc. – the engineering and construction firm currently building the new Tappan Zee Bridge. Ruby is eager to help other women pursue STEM degrees, and says, "Thank you, WCC and Con Edison, for helping me on my path to greatness. I believe this is just the beginning of great things in my life."  She is on track to graduate in December, 2016 and hopes to transfer to Manhattan College.
---
Eliwaja Ifuja (Ellie), Class of 2017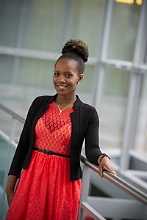 "Dreams really come true when we believe in them. I am standing here today to tell you how grateful and blessed I am to attend college.  I was born in Tanzania. Growing up there as child, I always had a passion for education. I always wanted to be in school. I remember when I first arrived in the United States, it was very scary. I had to adapt to a new culture and learn English. I didn't know how to speak English at all. This was so funny because whenever anyone spoke to me, I just smiled. Just a smile and nothing else.
Throughout this journey, there were many road blocks and mountains to climb and, to cut the story short someone introduced me to ESL classes at Westchester Community College. I can tell you it wasn't easy at all. Still, I was able to complete the four levels of English in two years. This is what motivated me to start taking  credit classes.  Right away I knew in my heart that I needed to go to college, but there was another tall mountain that was blocking me. There was nowhere to go – over or under. Tuition was a huge challenge for me. I knew I wanted to attend college and be successful in life. My mind was made up, and I knew the decision that I made by enrolling in Westchester Community College was the best decision that I could ever make.
My experiences at the college have allowed me to develop skills, something that I never thought would never happen. At that time, I registered for one class at a time because of my finances. I didn't give up. The following semester I applied for a scholarship, and I can tell you today it was another good decision. The day that I received the letter saying 'Congratulations, you won a scholarship.' I remember leaving everything that I was doing. I went and sat down and cried for joy. I was so happy knowing that I would be attending college as a full time student.  All that I needed to do was just go to school. This wasn't something that I was expecting.
Despite the challenges that I was facing, scholarships to me represent hope, support, and encouragement. Receiving the scholarship made my impossible possible. This opportunity to continue my education made me think, now I have a chance to become somebody in society. The scholarship gave me motivation and confidence. I am so grateful to God that somebody saw my potential and decided to help me. I am on my way to a brighter future. My goal in life is to use the knowledge I am acquiring in order to give back [and] to do something that will change someone else's life, just like mine was changed. I am forever grateful. These scholarships not only helped me with my finances, but they also helped to sharpen my leadership skills in many ways.
Thank you for your generosity. Now I know my dream can become a reality. I am happy to share with you that I will be graduating in 2017 and transferring to the College of New Rochelle where I hope to complete my BSN. Thank you! The Kathryn Davis Scholarship changed my life in a way that I will never ever forget. That Global Community Scholarship helped me to develop and gain my confidence and my skills.  As part of giving back to my community, I am currently running workshops at a local high school where we teach the students about things that we are facing in our world today. We also encourage them to study hard despite the challenges.
As for now, I am going to keep pushing for my destiny. Since I am just learning how to swim, I am going to swim hard this way to reach the shore of my goal in life. It is not easy, but if I hold my head up, I will make it. Thank you for the generosity of your gift. Your donations are like seeds, the good seeds, the seeds that you plant in my life and other students will forever be appreciated for generation to come. Thank you so much!"
---
Kezia Soares da Cruz, Class of 2016
Ruth & Jerome Siegel Scholarship recipient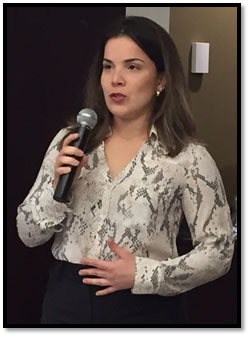 Kezia spoke at a Foundation event and said,
"I was at the Scholarship Ceremony, which was a beautiful event that made me feel very fortunate. Looking around and seeing so many students coming from different backgrounds made me think about many things. Interestingly, a few days later, I got the invitation to be here and talk to you as a student who got a scholarship. Now I have the opportunity to express those feelings and thoughts.
At the Ceremony, I could [see] how the recipients are like. We are people who hold various and different histories of life, but have [one] struggle in common: be excellent in our goal to accomplish our Degree in spite of all difficulties on the path.
I am sure there are students who have the support from their family, and this reward gives them the opportunity to show they appreciate it and they are determined to follow their role models.
However, there are also students who are the only in the family who got to college because of financial hardship for generations; there are bread winners, who many times give up on sleeping in order to work and study in a hope to provide a better life for the whole family; and finally, there are students who are alone in this journey, since there is nobody to remind them that they are capable, valuable and they are in the right path. For this diversity of backgrounds, it is possible to say that the scholarship represents something special to every recipient.
A scholarship can be defined as the quantity of money that a student receives to help him pay the tuition.  However, as a recipient, I don't think about my scholarship purely as some money value. Personally, it has a very special meaning because it came to my life in a very opportune moment.
During [the] summer of 2014, I experienced one of the hardest times in my journey here in America. The family who I lived with and was sponsoring me to keep my International Student Visa was going through a very complicated divorce. That had a negative impact in our relationship, and living with them was no longer possible. I had to leave that family's house, having no job and no other place to call home but my place in Brazil. Some local friends let me stay for few days in their house; however, with that sudden financial difficulty, I started to think that my best option would be to go back to my country.
The morning of July 15th, I tried to book a flight ticket to Brazil; for some reason, the transaction did not go through. That day, I took the bus to go to the agency and solve that transaction problem. Honestly, my heart was in pain when I thought about everything I was about to give up. On my way, I was checking my phone, and suddenly an e-mail came in. It was from the scholarship office saying that I had been selected for the Ruth & Jerome Siegel Scholarship. Some people would call it fate, or destiny; some people call it coincidence; and I am the one who believes that it was a God's sign saying I should stay and keep it up.
And I did. I canceled the tickets, and told my parents who were supporting me the whole time that I would try a little longer. After that hard time, a lot of amazing things had happened. I have met many people who currently hold a very important role in my life, and who I would never have the chance to meet if I had gone home.
Besides, the following semesters at College have been continuously interesting; I was fortunate to have the best Professors I could ever ask for, and I had the opportunity to learn so much in the field of Business Administration, and I became even more convinced that this is the career I want to pursue.
Undeniably, this reward has given me much more than a certain amount of money to pay my tuition. Clearly, the path is not easy: after the scholarship, Pre-Calculus keeps being a hard subject; Literature asks for a lot of never-ending reading and writing; indeed, Marketing demands a lot of imagination and brain work to create the "new product" project; Midterms and Finals lessens the time available to socialize, or have meals, or sleep; personal expenses require good planning and focus; Time management is still mandatory to be in class on time, and hand out every single assignment properly done. So, after [this] scholarship, dedication keeps being the key word for success.
Despite of all the difficulties on the way, having a scholarship represents hope and support. It is a reminder that I am capable and that there is somebody who believes in my potential. It is a reward for the hard work, and some extra motivation to keep going and apply myself even harder. It is the recognition of my everyday challenges. Certainly, it marks my history deeply and it will be unforgettable, which gives inspiration to also help others when the opportunity comes. That is why I believe every scholarship is like a seed that is planted into a fertile soil, and when time comes it will be a strong and productive tree."
---
Lindsay Peckham, Class of 2016
Spring 2016 recipient, Nancy Jo Abeles Scholarship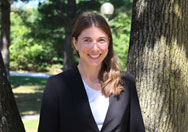 Lindsay Peckham of Pelham, N.Y. a WCC Student and a 2016 recipient of a Nancy Jo Abeles Scholarship, was honored for her achievements and passion for science, technology, engineering and math (STEM) at the "Women in Tech Awards Luncheon" on October 1, at Tappan Hill Mansion in Tarrytown. The luncheon was sponsored by the Westchester County Association.
Originally from the Boston area, Lindsay attended Community College in Massachusetts for one semester.  Shortly thereafter, she began her career in the business world, while there Lindsay found ways to incorporate her technical skills into her job. "I became the Jill of All Trades at every position I held,'' she said. "I got fast-tracked in the corporate world and climbed the ladder. I thought a lot about going back to school."
Lindsay always had an interest in science and math. "I was the girl who always tinkered with broken toasters and electronics,'' she said. "I had the junior chemistry set and blew things up."
Perhaps, fortunately for Lindsay, the company she worked for in Nashville was struggling financially, and the job market was competitive, especially for people without college degrees. "I was keeping my eyes open,'' Lindsay said. "Education was becoming an issue. My education couldn't stand behind my resume." Lindsay was at a crossroads, and decided to make a change.  After a tree crashed down on the Nashville, Tennessee, house that she was about to purchase; a moment Lindsay says she thinks about "all too often", "I think what [would have] happened if that tree did not fall and I did not get out of the contract to buy that house."
Encouraged by her sister, Jessica Yalmakos, to move to Pelham, New York, and live there with her and her family, which includes three children and her husband. Lindsay enrolled at Westchester Community College and embraced the atmosphere from the outset. She plans to finish WCC with a two-year degree in 2016 in Cyber Security. Lindsay has started an outreach program to encourage high school students to get them to consider a career in science, math or technology. She also works as a volunteer tutor for other college students.  "I hope that my journey, as crazy at it is, can inspire someone else,'' Lindsay states, "If someone's not getting to the goals they want, be a dreamer. Don't be stuck in a job you don't love."
She hopes to find a position in information security for a small business or non-profit when she gets her bachelor's degree. "I feel like there's so much on the table,'' Lindsay said, "There was a time I felt stuck. Now it feels like a buffet."
Lindsay feels humbled by the recognition from the Westchester Business Association and proud. "I remember driving home, I'm like why me? There are so many amazing people with amazing stories. It was truly wonderful for John Watkins (a cybersecurity instructor at WCC) to think of me. I didn't expect to be on the short list and then to win. It's truly incredibly, and I am ecstatic and humbled."
If you would like to read the complete article featured in the White Plains Daily Voice, written by Tom Renner, please follow the link below.
http://whiteplains.dailyvoice.com/business/honorees-path-to-westchester-county-association-award-took-several-turns/590308/
---
Kyrie Philbrook, Westchester Community College Class of 2015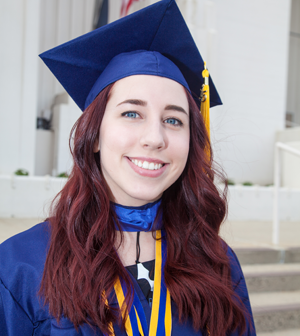 Kyrie Philbrook surmounted incredible odds that could have prevented her from accomplishing her goals, but with determination and support, she has excelled.  She received the Westchester Community College curriculum award in Human Services at commencement this past May and will go on to attend a four-year university this fall on a full scholarship which covers all of her academic expenses for the next two years.  Kyrie found a wonderful mentor in Professor Kathleen Pressler, who was the driving force behind Kyrie winning this scholarship.  During her time at Westchester Community College, Kyrie was the recipient of several high achieving scholarship awards including a Wallach Mentoring Scholarship and a Kathryn W. Davis Global Community Scholarship. She spoke at a Foundation event this spring, and said,
"I have come such a long way in just three short years.  My first day on WCC's campus, I was underweight, malnourished, homeless, and depressed. I had dropped out of high school at 14 due to anxiety and depression, and was involved with a man who was dangerous to my physical and mental wellbeing. All of this started to change at Westchester Community College.
Despite expecting utter failure, it was through the help of professors and staff that I landed on the President's list my very first semester. I received so much encouragement that the limits I had put on myself began to melt away. With each semester that passed by, I continued to receive A's and land on the President's List while juggling the weight of food insecurity and homelessness.  I realized I wanted to devote my life to helping those in similar situations, so I declared myself a Human Services major.
WCC Single Stop was even able to eventually help me find housing and leave the abusive man I so feared, and the scholarships I received every semester were an immense blessing in relieving my financial burdens. I was a winner of the Wallach Mentoring Scholarship which provided me guidance and a mentor who better helped me suit my academics to the dreams I had, and I will be graduating with an associate's degree in Human Services this semester before I transfer to pursue social work.
I am also winner of the Kathryn Davis Global Community Scholarship, in which the Davis Scholars are to work on a community service project for a year's time. We founded an awareness campaign called SASH, students against sexual harassment, and the workshops I have created with my partners will continue on every semester after we graduate. I am also the curriculum award winner for the Human Services major and a member of Phi Theta Kappa Honor's Society.
None of this would be possible without your generous contributions. The scholarships I received were crucial in my being able to afford my classes and textbooks.
I am forever indebted to all of you for making my dreams possible.
You changed my life. "
---
Brooks Goss, WCC class of 2015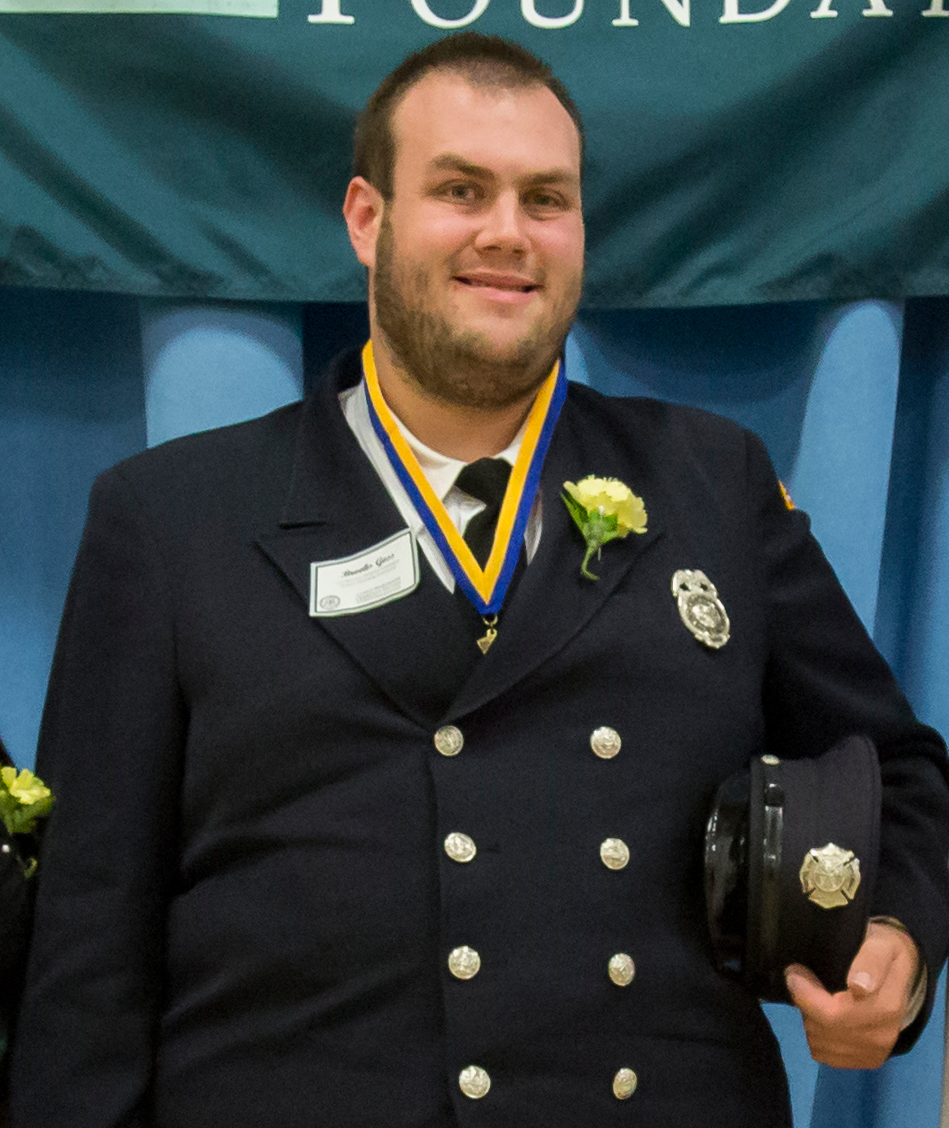 Brooks Goss was a student with many challenges.  When he first came to campus, he was shy and nervous, and his mother accompanied him to many of his classes.  The turning point in his life was being selected as a recipient of two scholarships, including the Wallach scholars program and the Lisa Mancher Memorial Scholarship. Brooks thrived.  He became outgoing and confident, and did well academically.
Two years ago, he was selected as the student key-note speaker at our scholarship recognition ceremony.  In it he said:  "People think that just because I learn a little differently that I could not succeed.  But that has never happened here at WCC.  At Westchester Community College I have met professors, counselors, tutors and students who are interested in getting to know ME!  I was always encouraged and told that I could and that I would, SUCCEED.  I want to say thank you to all the Donors.  I know that I would not be here without your very generous help."  He received a standing ovation.
Brooks graduated this past May, and is attending Vaughn College of Aeronautics and Technology.   He has not taken the support he received at WCC for granted.  Before he graduated, he came to the foundation with a modest check, which he has asked us to use for scholarships for other students in honor of his mentor, Dr. Werner.  He intends to make a contribution every year.  In his cover letter, he wrote "I want to make this donation every year to help the other students at Westchester Community College, just the way the scholarship donors helped me, especially Mrs. Wallach and the Mancher family.  When I finish college and start working full time, I will be able to give more."
We salute Brooks for his success, his kindness, and his selfless generosity.  He represents the best of WCC, and he continues to inspire us.
---
Wellington Mackey, WCC Class of 2015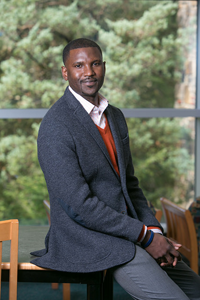 Wellington Mackey is a Liberal Arts Social Sciences major who graduated this past May as the Curriculum Award winner, and who recently received news that he had been accepted to Yale University in New Haven CT! This has been a good year for Wellington, as he was also recently awarded a prestigious Jack Kent Cooke Foundation Undergraduate Transfer scholarship, which provides up to $40,000 per year to community college transfer students, and which is the largest scholarship of its kind nationwide. Wellington's honors and activities at WCC include selection into the coveted Kathryn Davis Global Scholarship program; selection of his research paper, by the 2014 Beacon Conference of Undergraduate Two-Year Colleges, as the Most Outstanding Research Work in the Field of Social Science; and the founding of "Helping H.A.N.D.S," a non-profit organization designed to research the causes of, and devise solutions to, the ever growing crisis of urban food insecurity. He has also served as student ambassador at various campus events, and will travel to Cambridge University this summer as a visiting undergraduate scholar.
Wellington's professor and mentor, Farhad Ameen, describes Wellington as "one of the finest students [he's] had in 22 years of teaching at WCC."
Board Member & Trustee, David Swope says "Wellington embodies everything that Mrs. Davis envisioned when she created her scholarship"
Wellington spoke at a Foundation event and said,
"I'm here this evening to speak briefly about my time at Westchester Community College, a time which is sadly coming to an end, but for which I am eternally grateful. I would like to speak specifically about Westchester Community College's robust scholarship program, and how having received a generous scholarship has impacted my academic career. Last fall I received the Kathryn W. Davis Global Community scholarship. It is a full tuition scholarship and for someone in my position, that of being a young father and having had to take a significant pay cut in order to attend classes full time, the scholarship was an absolute godsend. I believe that it has been one of the most important factors in the success I have enjoyed at the college. These scholarships are not handouts, but investments in a brighter future for us all. When higher education is proliferated, the entire society benefits enormously. And it takes a community – hence the name of the college. In my case in particular, I was able to focus laser-like on my classes once the financial burden of paying for school was lifted from my shoulders. The investment made in my academic future paid dividends too. You are now looking at a young man who entered college, the first in his family to do so, with the simple goal of graduating with a piece of paper that said I had actually finished something. However, when I saw the confidence that was placed in me by my professors, the support staff, and donors like yourself, my trajectory was altered, and I'm now Ivy League bound.
During my time as a Davis scholar I learned to give back to the community as well. My team and I established a wonderfully efficient and absolutely necessary food pantry in the South Bronx. These scholarships are a means of exchange, what you give to students gets multiplied exponentially. The scholarship office does an amazing job pairing the right students with the right opportunities. And isn't that what it is all about – opportunity?
These scholarships are fundamental to the success of many students from modest backgrounds like myself. Many of us would not have been able to attend college at all if it were not for them. Imagine the amount of talent and potential that would have gone unrealized without this great initiative. I'm included in that total. Your kind willingness to give support to those who may not necessarily be able to do it alone is not lost on me. I want to say thank you from my heart.
I would like to reiterate my profound gratitude for the great work being accomplished here. It makes us a stronger society, a more shining example of what a nation should aspire to, and exemplifies the principles of community. Thank you very much. "