Lecture with Martha J. Kanter
Thursday, October 1, 2015 – 11:00 am
Hankin Academic Arts Building
Sponsored by Westchester Community College's Endowed Faculty Chair Program 
Martha J. Kanter, Distinguished Visiting Professor of Higher Education, New York University 
Exceptional Leadership for the 21st Century:Making Dreams Come True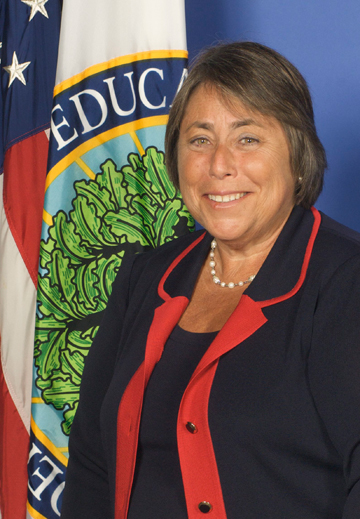 Martha J. Kanter is a Distinguished Visiting Professor of Higher Education and Senior Fellow at New York University. Her academic interests include: The Confluence of Access, Equity and Excellence; The Intersection of Policy and Politics in American Higher Education; and The Contributions of America's Community Colleges to the Nation's Social Fabric, Civic Future and Economy. She is presently working on college affordability and college for all policies.
In 2009, President Barack Obama nominated Kanter to serve as the U.S. Under Secretary of Education, with oversight responsibility for all federal postsecondary statutory, regulatory and administrative policies and programs for the U.S. Department of Education, including the $175B annual federal student aid programs, higher education, adult education, career-technical education, international education and 6 White House Initiatives. Through the first term of the Obama Administration, Kanter and her team focused on increasing college access, affordability, quality and completion to implement President Obama's goal "to have the best educated, most competitive workforce in the world by 2020." She oversaw the simplification and successful implementation of the Direct Student Loan program that resulted in a 50-percent increase in college enrollment, growing from 6 to more than 9 million students today who are Pell Grant recipients.
Previously, Kanter served as President of De Anza College and then Chancellor of the Foothill-De Anza Community College District for sixteen years. She began her career as an alternative high school teacher in Lexington, MA.
Kanter serves on the Board of Directors of the American Association of Colleges and Universities, Corporation for Enterprise Development, Educational Testing Service, Excelencia in Education, the Woodrow Wilson Scholarship Foundation, California State University-Dominguez Hills Foundation, and High Tech High Graduate School of Education. She holds a B.A. degree in Sociology from Brandeis University, an M.Ed. from Harvard University and an Ed.D. from the University of San Francisco.
Tickets for this event are complimentary. Reservations are required. For further information, please call 914-606-6558.